Pentagon declines to disclose U.S. nuclear weapons stockpile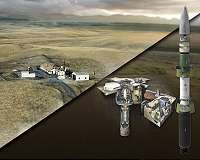 Washington (UPI) Apr 18, 2019 – 
The Department of Defense denied a request to release information on the nation's nuclear stockpile, ending a practice that started a decade ago with little explanation. The Pentagon refused to comply with an Oct. 1 request by the Federation of American Scientists to provide the number of active warheads and those dismantled through the end of Fiscal Year 2019 "After careful cons …
more
China using AI to identify Uighurs across China: NYT
Hong Kong (AFP) April 15, 2019 – 
Chinese authorities are using a vast system of facial recognition technology to track its Uighur Muslim minority across the country, according to a story in the New York Times. Beijing has already attracted widespread criticism for its treatment of Uighurs in the northwest region of Xinjiang, where up to one million members of mostly Muslim Turkic-speaking minority groups are held in internm …
more
China Plans to Build Base Near South Pole Outdoing US Apollo Missions
by Staff Writers
Beijing (Sputnik) Apr 29, 2019

China has been on track to play a part in the international lunar race for quite some time now, funnelling staggering budget sums into the industry to keep up with the US, which for its part has recently announced a pretentious goal of sending a manned mission back to the Moon, four decades after the Apollo missions.
China has set an ambitious goal of building a scientific research centre on the moon in "about 10 years" in the area of its South Pole, the state agency Xinhua reported citing the head of the China National Space Administration (CSNA), Zhang Kejian. Source
---
Equator Aircraft's P2 Xcursion prototype​ electric amphibious aircraft has taken fully to the air for the first time in the skies over Eggemoen Technology Park in Norway.   Read more
Sandia National Laboratories (SNL) has announced that it has set up an academic research coalition to help create artificially intelligent aerospace systems to control hypersonic missiles and other complicated vehicles in challenging environments.   Read more
Scientists in Europe have made an exciting breakthrough in the effort to limit methane seeping into the atmosphere, isolating a previously unknown bacterium that appears to have a ravenous appetite for the atmospheric trace gas.​
---
Shared newsletter @ newatlas.com(Credit source)